22 May 2013
After 41 Years Of Service to His Country
James Mattis Retires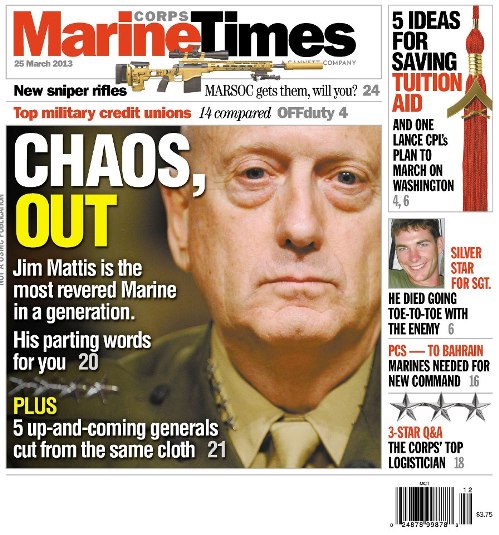 25 March 2013
Source: Marine Corps Times

Like no other officer in a generation, Gen. James Mattis has inspired those around him
with his wisdom, candor and appreciation for rank-and-file U.S. service members. Now,
he's planning to retire, wrapping up a 41-year career in which he led Task Force 58
during the 2001 invasion of Afghanistan and 1st Marine Division during the 2003
invasion of Iraq.

I examine Mattis' place in history in Marine Corps Times' cover story this week. The
story is currently available online on Marine Corps Times Prime.

Since 2010, the general known by the call sign "Chaos" has run U.S. Central Command,
overseeing the war in Afghanistan and other U.S. military throughout the Middle East.
He's expected to be replaced by Army Gen. Lloyd Austin on March 22.

Mattis himself weighed in for the story, saying in an email that he prefers to end his
career quietly.

"I've had some 'riotous excursions of the human spirit' alongside the young Sailors and
Marines and it's time to leave the stage to the young leaders who got their rank the
old-fashioned way — they earned their stripes in combat," he said. "The Corps is in good
hands, and it's been a privilege to serve with the Leathernecks. Now it's time to go."

We've got multiple anecdotes about Mattis that you've likely never heard before, thanks
to interviews with Gen. John Kelly, Brig. Gen. Paul Kelly, Col. Mike Groen and others. A
source also shared details about a closed-door all-hands meeting in which Mattis spoke
at CENTCOM headquarters at MacDill Air Force Base on March 8.

Was there a new "Mattisism"? Of course there was.

Congressional Record
113th Congress (2013-2014)

RETIREMENT OF GENERAL JAMES MATTIS -- (Senate - April 08, 2013)
[Page: S2453] GPO's PDF

---

Mr. McCAIN. Mr. President, today I honor an exceptional warrior and scholar. After a lifetime
of service to our Nation, Gen. James N. Mattis is retiring from the U.S. Marine Corps and his
current position as Commander of the United States Central Command. On this occasion I believe
it is fitting to recognize General Mattis' 41 years of uniformed service to our Nation.

The general was commissioned a second lieutenant on January 1, 1972. He has served in every major
combat operation of his era and led at every level from platoon to theater command. Upon promotion
to brigadier general, he commanded first the 1st Marine Expeditionary Brigade and then
Task Force 58, during Operation Enduring Freedom in southern Afghanistan. As a major general,
he commanded the 1st Marine Division during the initial attack and subsequent stability operations
in Iraq during Operation Iraqi Freedom. General Mattis led marines into Afghanistan in 2001 and
Iraq in 2003--the defining conflicts of our age.

General Mattis is well known for his dedication and intellect. When selected to command the U.S.
Central Command, then Secretary of Defense, Robert Gates, called him ``one of the military's most
innovative and iconoclastic thinkers.'' He has proved to be that and more. General Mattis is known
to carry books on philosophy with him on every combat mission. He is said to have a personal
library of over 6,000 books that he takes with him to every new command. Even more important than
his intellect and bravery, is his ability to connect with and lead our soldiers, sailors, airmen
and marines. In March 2003, he wrote a letter to all forces under his command, telling them to
``engage your brain before you engage your weapon.'' I have had the pleasure of meeting those
under his command and am always impressed by the respect and favor he carries amongst them.

I most respect General Mattis' willingness to speak truth to power. His candor is a facet of a
professionalism that has been exacted over a lifetime and exercised during a most impressive
military career. Thoughtful leaders throughout government will feel his absence. I join many past
and present members of the Senate Armed Services Committee in my gratitude to General Mattis for
his outstanding leadership and his unwavering support of servicemembers. General James Mattis
service has evinced the meaning of the words ``Semper Fidelis.

"I wish him ``fair winds and following seas."