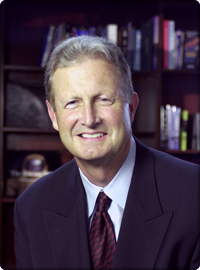 James F. (Jim) Albaugh
Executive Vice President
The Boeing Company
President and Chief Executive Officer
Commercial Airplanes
Jim Albaugh is executive vice president of The Boeing Company and president and
chief executive officer of Boeing Commercial Airplanes. He is responsible for all of
the company's commercial airplanes programs and related services. Named to this
position effective Sept. 1, 2009, Albaugh, 60, is a member of the Boeing
Executive Council and serves as Boeing's senior executive in the Pacific Northwest.
Prior to his current position, Albaugh was president and chief executive officer of
Boeing Integrated Defense Systems, a business unit providing integrated solutions
to meet the needs of defense, space and intelligence customers in the United
States and around the world.
Previously, Albaugh was president and CEO of Boeing Space and Communications
(S&C) for four years. This unit merged in July 2002 with the company's Military
Aircraft and Missiles Systems unit to create Integrated Defense Systems.
Before leading Space and Communications, Albaugh was president of Boeing Space
Transportation, a predecessor unit of S&C. He assumed that position after serving
as president of Rocketdyne Propulsion & Power, part of the Rockwell aerospace
and defense businesses acquired by Boeing in 1996.
A Washington state native, Albaugh joined the company in 1975 as a project
engineer at its Hanford, Wash., operations.
He is a Fellow of the American Institute of Aeronautics and Astronautics and an
elected member of the International Academy of Astronautics. In 2010, Albaugh
received the Forrestal Award from the National Defense Industrial Association for
leadership in preserving a strong U.S. defense industrial base. He also was
appointed to the board of the National Competitiveness Center, an independent
organization that helps Saudi Arabia compete more effectively in the global economy.
In 2008, he was honored by the Southern California Aeronautic Association with its
prestigious Howard Hughes Memorial Award for his extensive contributions to the
aerospace industry. He was elected to the Willamette University Board of Trustees
the prior year.
In 2006, Albaugh was elected a member of the TRW Automotive board of
directors; received the Semper Fidelis Award from the Marine Corps Scholarship
Foundation; and was elected a member of the Aerospace Industries Association
Board of Governors Executive Committee.
He was appointed in 2003 by President George W. Bush to the National Security
Telecommunications Advisory Committee. The National Defense Industrial
Association recognized Albaugh in 2001 with the Bob Hope Distinguished Citizen
Award. That same year, he also received the International von Karman Wings
Award from the Aerospace Historical Society and was elected a Fellow to the Royal
Aeronautical Society.
Albaugh, a Gold-and-Silver-Knight of the National Management Association, was
that organization's Executive-of-the-Year in 1999. He also is a member of the
American Astronautical Society, the Air Force Association and the Washington
Roundtable, and sits on the boards of a variety of corporate and charitable
organizations.
Albaugh holds bachelor's degrees in mathematics and physics from Willamette
University and a master's degree in civil engineering from Columbia University.
###